Tickers: PINX:MLYFF, XTSX:NVM
Tags: Mining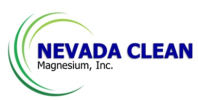 VANCOUVER, BRITISH COLUMBIA / TheNewswire / May 31, 2018 - Nevada Clean Magnesium, Inc. (TSX-V:NVM; Frankfurt-M1V; OTCQB:MLYFF) (the "Company") has announced the company has entered into an agreement with John Ulmer for Investor Relations ("IR").
Mr. Ulmer is an independent IR consultant who has been a director for private LLC's and public companies on Canadian and US Stock Exchanges. His duties for over 20 years was to assist raising money and creating IR management teams. He completed the Canadian Investment Funds course 1988 and the Canadian Securities Course in 1989 and became an assistant financial planner.
Under the terms of the agreement, Mr. Ulmer will receive $1500 CDN per month for 6 months and receive 300,000 options of the Company at a price of $0.05.
The services agreement is subject to TSX Regulatory approval.
About Nevada Clean Magnesium, Inc.
Nevada Clean Magnesium is focused on becoming a major U.S. producer and distributor of primary, high grade, low cost magnesium metal extracted from its 100% owned Tami-Mosi property located in North Central Nevada. Based on the Company's NI 43-101 Preliminary Economic Assessment Report published in September 2011 and amended in July 2014, the Tami-Mosi Project has an inferred resource of 412 million tonnes with an average grade of 12.3% Mg for a contained metal content of 111 billion pounds of magnesium using a 12% cut-off grade contained within a high purity dolomite block. For more information, please visit www.nevadacmi.com.
The technical portion of this press release was prepared under the supervision and review of James Sever, P. Eng., and COO for Nevada Clean Magnesium. Mr. Sever is a non-independent qualified person within the meaning of National Instrument 43-101 standards.
Forward-Looking Statement
Statements in this news release that are not historical facts are forward-looking statements that are subject to risks and uncertainties. Forward-looking statements in this news release include that we can become a major U.S. producer and distributor of primary, high grade, low cost magnesium metal. Actual results may differ materially from those currently anticipated due to a number of factors, including the Company's dolomite resource may not be mined because of technical, regulatory, financing or other obstacles, the market price for magnesium may make our resources uneconomic, we may not be able hire and retain skilled employees, and other risks associated with being a mineral exploration and development company. The Company undertakes no obligation to update forward-looking information except as required by law. The reader is cautioned not to place undue reliance on forward-looking statements. These forward-looking statements are made as of the date of this news release.
Neither TSX Venture Exchange nor its Regulation Services Provider (as that term is defined in policies of the TSX Venture Exchange) accepts responsibility for the adequacy or accuracy of this release.
To Reach Nevada Clean Magnesium Please Contact:
Edward Lee, CEO at (604) 210-9862
For additional information please visit our website at
http://www.nevadacmi.com or view our profile at http://www.sedar.com.
You may also follow us on Facebook, Twitter or LinkedIn.
Copyright (c) 2018 TheNewswire - All rights reserved.