Tickers: PINX:MLYFF, XTSX:NVM
Tags: Mining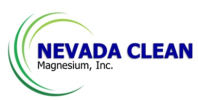 VANCOUVER, BRITISH COLUMBIA / TheNewswire / July 18, 2018 - Nevada Clean Magnesium, Inc. (TSX-V:NVM; Frankfurt-M1V; OTCQB:MLYFF) (the "Company") is pleased to announce that Big Blue Technology, Inc. (BBT) has completed construction and has commenced preliminary testing on a basic design of James Sever's "Alpha" condenser. This basic condenser is currently being operated as part of BBT's carbothermic process to identify design modifications needed to build the next iteration of the liquid phase condenser in order to operate the carbo-thermic reactor on a continuous basis. This test work is expected to be completed near the end of July including tests using dolomite from NCM's Tami Mosi property.
The silico-thermic furnace located in Fort St. John, British Columbia is also being redesigned to accommodate a continuous operation method and will be integrated with the updated "Alpha" condenser resulting in a fully continuous reactor-condenser process. After modifications are completed, the furnace will test ferro-silicon and the previously identified alternate reductant.
Aaron Palumbo, Executive Vice President and director of NCM states "Jim has already shown proof of concept of the silico-thermic process and is now executing on improvements to the NCM furnace to demonstrate continuous operation. BBT has done the same with a carbothermic process including the use of a prototype liquid phase condenser. Together, we are developing our technical roadmap to achieve continuous operation on both processes at larger production capacities with a common or universal condenser that can be adapted to either furnace. This gives NCM flexibility of choosing the right process for the right circumstances, including producing metal from a variety of ore sources.
Ed Lee, Chairman and CEO goes on to explain "The realization is that NCM will control two types of thermo-reductive processes. A silico-thermic process (NCM's base case), a form of which has been in successful operation for over 40 years in Brazil and the carbo-thermic process which was operated successfully in the 1940's by Kaiser Corp. With the implementation of various current technologies, both process paths are being methodically modified to provide potential on-site flexibility and for the continuous production of magnesium metal from a thermal reduction process."
About Nevada Clean Magnesium, Inc.
Nevada Clean Magnesium is focused on becoming a major U.S. producer and distributor of primary, high grade, low cost magnesium metal extracted from its 100% owned Tami-Mosi property located in North Central Nevada. Based on the Company's NI 43-101 Preliminary Economic Assessment Report published in September 2011 and amended in July 2014, the Tami-Mosi Project has an inferred resource of 412 million tonnes with an average grade of 12.3% Mg for a contained metal content of 111 billion pounds of magnesium using a 12% cut-off grade contained within a high purity dolomite block. For more information, please visit www.nevadacmi.com.
The technical portion of this press release was prepared under the supervision and review of James Sever, P. Eng., and COO for Nevada Clean Magnesium. Mr. Sever is a non-independent qualified person within the meaning of National Instrument 43-101 standards.
Forward-Looking Statement
Statements in this news release that are not historical facts are forward-looking statements that are subject to risks and uncertainties. Forward-looking statements in this news release include that we can become a major U.S. producer and distributor of primary, high grade, low cost magnesium metal; and that we can develop a clean, commercially viable, cost-effective process for the production of magnesium from dolomite and the opportunity to commercialize and start sales, that our team should make significant progress in coming up with a cost effective magnesium producing process, that if that happens, there will be more demand from magnesium end users, and that we can establish a sustainable and cost-competitive business enterprise. Actual results may differ materially from those currently anticipated due to a number of factors, including that the TSXV may not approve the agreements, the Company's dolomite resource may not be mined because of technical, regulatory, financing or other obstacles, the market price for magnesium may make our resources uneconomic, the BBT Process may not be able to be commercially developed, none of our processes may result in cost-effective magnesium production, we may not be able to protect our intellectual property and keep out competition, we may not be able to comply with our obligations under the BBT agreements, we may not be able hire and retain skilled employees, no market for our or BBT's process may develop from other resource owners, anticipated demand may not materialize, and other general risks associated with being a mineral exploration and development company. The Company undertakes no obligation to update forward-looking information except as required by law. The reader is cautioned not to place undue reliance on forward-looking statements. These forward-looking statements are made as of the date of this news release and NCM undertakes no responsibility to update these forward looking statements except as required by law.
Neither TSX Venture Exchange nor its Regulation Services Provider (as that term is defined in policies of the TSX Venture Exchange) accepts responsibility for the adequacy or accuracy of this release.
To Reach Nevada Clean Magnesium Please Contact:
Edward Lee, CEO at (604) 210-9862
For additional information please visit our website at
http://www.nevadacmi.com or view our profile at http://www.sedar.com.
You may also follow us on Facebook, Twitter or LinkedIn.

Copyright (c) 2018 TheNewswire - All rights reserved.