Tickers: PINX:MLYFF, XTSX:NVM
Tags: Mining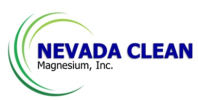 VANCOUVER, BRITISH COLUMBIA / TheNewswire / September 10, 2018 - Nevada Clean Magnesium, Inc. (TSX-V:NVM; Frankfurt-M1V; OTCQB:MLYFF) (the "Company") is pleased to share news of a research publication authored by Boris Chubukov, a company Director, in the peer-reviewed journal Metallurgical and Materials Transactions B and titled "Design and Fabrication of Pellets for Magnesium Production by Carbothermal Reduction."
The paper describes methods to prepare reactant materials for the carbothermal reduction of magnesium oxide to produce magnesium metal. Included in the work was the use of dolomite from Nevada Clean Magnesium, Inc.'s Tami-Mosi property. The paper also probes the fate of impurity materials, the use of binder materials, and ties together a previous publication with the use of a kinetic reaction model. The work completed in this publication will assist in the designing of the geometric shaping of the pellets required for continuous operations in order to achieve steady flow for the live feed systems.
The paper can be veiwed at https://link.springer.com/article/10.1007/s11663-018-1309-5
The technical portion of this press release was prepared under the supervision and review of James Sever, P. Eng., Director and COO for Nevada Clean Magnesium. Mr. Sever is a non-independent qualified person within the meaning of National Instrument 43-101 standards.
Forward-Looking Statement
Statements in this news release that are not historical facts are forward-looking statements that are subject to risks and uncertainties. Forward-looking statements in this news release include that we can become a major U.S. producer and distributor of primary, high grade, low cost magnesium metal; that we will be able to close on our agreements with BBT; and that we can develop a clean, commercially viable, cost-effective process for the production of magnesium from dolomite, and the opportunity to commercialize and start sales. Actual results may differ materially from those currently anticipated due to a number of factors, including that the TSXV may not approve the agreements, the Company's dolomite resource may not be mined because of technical, regulatory, financing or other obstacles, the market price for magnesium may make our resources uneconomic, the BBT Process may not be able to be commercially developed, none of our processes may result in cost-effective magnesium production, we may not be able to protect our intellectual property and keep out competition, we may not be able hire and retain skilled employees, no market for our or BBT's process may develop from other resource owners, and other general risks associated with being a mineral exploration and development company. The Company undertakes no obligation to update forward-looking information except as required by law. The reader is cautioned not to place undue reliance on forward-looking statements. These forward-looking statements are made as of the date of this news release.
Neither TSX Venture Exchange nor its Regulation Services Provider (as that term is defined in policies of the TSX Venture Exchange) accepts responsibility for the adequacy or accuracy of this release.
To Reach Nevada Clean Magnesium Please Contact:
Edward Lee, CEO at (604) 210-9862
For additional information please visit our website at
http://www.nevadacmi.com or view our profile at http://www.sedar.com.
You may also follow us on Facebook, Twitter or LinkedIn

Copyright (c) 2018 TheNewswire - All rights reserved.