Tickers: PINX:MLYFF, XTSX:NVM
Tags: Mining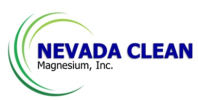 VANCOUVER, BRITISH COLUMBIA / TheNewswire / July 9, 2018 - Nevada Clean Magnesium, Inc. (TSX-V:NVM; Frankfurt-M1V; OTCQB:MLYFF) (the "Company") is pleased to announce that it has completed the definitive agreements and entered into a Sublicense Agreement and a Joint Services Agreement, both with Big Blue Technologies LLC of Colorado ("BBT").
BBT has recently signed an exclusive license with the University of Colorado respecting certain patents and processes owned by the University relating to producing magnesium, primarily using the chemistry known as carbothermal reduction which BBT developed together with the University (the "BBT Process"). Under the Sublicense Agreement, NCM and BBT will jointly develop the BBT Process and NCM will have an exclusive sublicense to utilize the BBT Process so long as it pays license fees and meets certain other conditions.
Under the Joint Services Agreement, BBT and its scientific team will assist the Company in further developing and commercializing the Company's own process of producing magnesium, which unlike the BBT Process, uses either a silicothermic process or a proprietary reductant (the "NCM Process"). The Company considers that by developing various processes at once, information learned and discoveries made in respect of one process may equally assist in developing the other process, increasing the chances in at least one continuous thermo reduction magnesium production process. In payment for BBT's services for the joint development of the NCM Process, the Company will pay BBT in stock, issuing up to 22,876,717 common shares to BBT as against valid accounts for services rendered at a deemed price of $0.05 per share.
The Company believes that the combination of the Sublicense Agreement and the Joint Services Agreement gives it access to the best, cutting edge technology and some of the best human resources available to develop a clean, commercially viable, cost-effective process for the production of magnesium from dolomite, and the opportunity to commercialize and start sales from its world class dolomite deposit located at the Tami-Mosi Project in Nevada.
Edward Lee, President and CEO of the Company remarked "We see these agreements as paving the future and security for Nevada Clean Magnesium and its shareholders. This gives our company an advanced state of the art technology to process magnesium metal, and it also gives us a dedicated, young scientific team from Colorado that, combined with our own expertise, should make significant progress. We know the demand for magnesium within the United States is there, we just have to get the process finished to supply it profitably. If we do that successfully, we expect to see a lot more demand from end users in order to supply their magnesium metal needs."
Aaron Palumbo, the CEO of BBT, stated "Our team at BBT is excited to advance the prospect of magnesium production in North America with Nevada Clean Magnesium. The combined team is now a powerhouse of technical expertise in thermochemical production methods, bridged by a universal condenser design. We aim to leverage carbothermal and silicothermal operating methods as a means of reducing technical risk for scale-up and commercial implementation. Our immediate goal is to start making magnesium, but now we have a way to realize a long-term vision of establishing a sustainable and cost-competitive business enterprise."
The Sublicense Agreement and the Joint Services Agreement are subject to TSX Venture Exchange approval.
Also, effective immediately the Board of directors has accepted the resignation of Scott Rowe as director of the company.
Mr. Rowe has elected to pursue a teaching career. The Company would like to thank him for his contributions and wish him the best with his future endeavors.
About Nevada Clean Magnesium, Inc.
Nevada Clean Magnesium is focused on becoming a major U.S. producer and distributor of primary, high grade, low cost magnesium metal extracted from its 100% owned Tami-Mosi property located in North Central Nevada. Based on the Company's NI 43-101 Preliminary Economic Assessment Report published in September 2011 and amended in July 2014, the Tami-Mosi Project has an inferred resource of 412 million tonnes with an average grade of 12.3% Mg for a contained metal content of 111 billion pounds of magnesium using a 12% cut-off grade contained within a high purity dolomite block. For more information, please visit www.nevadacmi.com.
The technical portion of this press release was prepared under the supervision and review of James Sever, P. Eng., and COO for Nevada Clean Magnesium. Mr. Sever is a non-independent qualified person within the meaning of National Instrument 43-101 standards.
Forward-Looking Statement
Statements in this news release that are not historical facts are forward-looking statements that are subject to risks and uncertainties. Forward-looking statements in this news release include that we can become a major U.S. producer and distributor of primary, high grade, low cost magnesium metal; and that we can develop a clean, commercially viable, cost-effective process for the production of magnesium from dolomite and the opportunity to commercialize and start sales, that our team should make significant progress in coming up with a cost effective magnesium producing process, that if that happens, there will be more demand from magnesium end users, and that we can establish a sustainable and cost-competitive business enterprise. Actual results may differ materially from those currently anticipated due to a number of factors, including that the TSXV may not approve the agreements, the Company's dolomite resource may not be mined because of technical, regulatory, financing or other obstacles, the market price for magnesium may make our resources uneconomic, the BBT Process may not be able to be commercially developed, none of our processes may result in cost-effective magnesium production, we may not be able to protect our intellectual property and keep out competition, we may not be able to comply with our obligations under the BBT agreements, we may not be able hire and retain skilled employees, no market for our or BBT's process may develop from other resource owners, anticipated demand may not materialize, and other general risks associated with being a mineral exploration and development company. The Company undertakes no obligation to update forward-looking information except as required by law. The reader is cautioned not to place undue reliance on forward-looking statements. These forward-looking statements are made as of the date of this news release and NCM undertakes no responsibility to update these forward looking statements except as required by law.
Neither TSX Venture Exchange nor its Regulation Services Provider (as that term is defined in policies of the TSX Venture Exchange) accepts responsibility for the adequacy or accuracy of this release.
To Reach Nevada Clean Magnesium Please Contact:
Edward Lee, CEO at (604) 210-9862
For additional information please visit our website at
http://www.nevadacmi.com or view our profile at http://www.sedar.com.
You may also follow us on Facebook, Twitter or LinkedIn.
Copyright (c) 2018 TheNewswire - All rights reserved.