Tickers: PINX:MLYFF, XTSX:NVM
Tags: Mining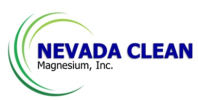 New President and Chief Operating Officer
Appointed to the Board
VANCOUVER, BRITISH COLUMBIA / TheNewswire / November 1, 2018 - Nevada Clean Magnesium, Inc. (TSXV: NVM; Frankfurt-M1V; OTCQB: MLYFF) (The "Company") today announced the appointment of Barrie D. Fraser, P. Eng., to the board of directors to assume the position as President and Chief Operating Officer.
Mr. Fraser holds a Professional Engineering designation registered with Engineers and Geoscientists British Columbia (EGBC).
Prior to his move to Nevada Clean Magnesium he held the position of "Director, Project Management - Americas" at Advisian, a global engineering, sciences and business consulting company.
At Advisian, Mr. Fraser provided leadership and deployment of resources in the areas of project governance and project management acumen for the portfolio of approximately 1,000 active projects. This role included: training, process improvement, mentoring, review & monitoring of project management activities, and direct project involvement in support of overall business objectives. His range of project management acumen includes topics such as: health, safety and environment (HSE), client satisfaction, risk management, change management, scheduling, cost estimating, procurement, earned value management, and commercial performance.
With over 20 years of experience in the area of project management, Mr. Fraser has served as a Senior Project Manager at Worley Parsons Canada and Tetra Tech WEI Inc. as well as various production based roles such as Engineering and Tooling Manager at Grenville Castings Limited and Manager of Engineering at Canarm Ltd. His career to date demonstrates a wide range of capabilities in various industries, including: industrial HVAC; light metals casting and finishing; automotive; marine; nuclear power generation; mining; and infrastructure focusing on quality, maintenance, resource management, production, finance, and HSE.
Edward Lee, Executive Chairman, states "We welcome Mr. Fraser's caliber and expertise as he will play a key role in the planning and execution with the new executive team in order to deliver on the company's strategic objectives for its shareholders."
Neither TSX Venture Exchange nor its Regulation Services Provider (as that term is defined in policies of the TSX Venture Exchange) accepts responsibility for the adequacy or accuracy of this release.
Forward-Looking Statements
Statements in this news release that are not historical facts are forward-looking statements that are subject to risks and uncertainties. Forward-looking statements in this news release include that we will conduct and close a private placement and that we can become a major U.S. producer and distributor of primary, high grade, low cost magnesium metal. Actual results may differ materially from those currently anticipated due to a number of factors, including the Company's dolomite reserves may not be mined because of technical, regulatory, financing or other obstacles, the market price for magnesium may make our resources uneconomic, we may not be able hire and retain skilled employees, and other risks associated with being a mineral exploration and development company. We may not be able to close with interested investors on our intended private placement because of perceived risks or market conditions. The Company undertakes no obligation to update forward-looking information except as required by law. The reader is cautioned not to place undue reliance on forward-looking statements. These forward-looking statements are made as of the date of this news release.
To Reach Nevada Clean Magnesium Please Contact:
John Ulmer, Investor Relations at (604) 210-9862
For additional information please visit our website at http://www.nevadacmi.com or view our profile at http://www.sedar.com.
You may also follow us on Facebook, Twitter or LinkedIn.

Copyright (c) 2018 TheNewswire - All rights reserved.